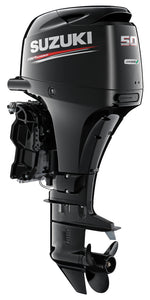 The DF40A and DF50A are powered by Suzuki's proven in-line three-cylinder 12-valve engine. This high performance engine has a displacement of 941cm3 and features a DOHC powerhead—the only DOHC engine used in the 40-50HP outboard class—with four valves per cylinder, and an air intake system optimised for maximum efficiency in the high rpm range.
When designing this engine, Suzuki engineers also focused on improving mechanical efficiency. Each component was analysed and redesigned to reduce mechanical loss in order to improve efficiency. As an example, a new oil pump design makes internal oil flow more efficient, keeping moving parts better lubricated while using less energy. The combined reduction in mechanical loss throughout the engine contributes to better fuel economy.
For current availability please contact us.