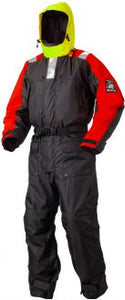 A flotation suit designed for children that will keep you warm and comfortable, even on the coldest of days. Soft and comfortable, completely waterproof and windproof with taped seams. There are two wrist cuffs, a PU cuff that prevents water from flowing in and an external cuff that can be tightened over gloves. In the leg ends there is an external cuff but no PU cuff, this so that air collected in the overall can be evacuated in the event of a fall in headfirst. Four external pockets and two heated pockets. Internal braces and an inner pocket and hood. Approved according to the same standard as a standard 50N lifejacket. It is just as soft and comfortable when it is many degrees below zero. Weight capacity of 80N.
In addition to being tested to the 50N standard, all our overalls are also tested and approved to EN ISO 15027-1 thermal protection. This means that you should be able to be in 10-degree water for two hours and not drop more than two degrees at body temperature.
In the Amarok you drop on average only 1.1 degrees.
-2 year warranty
-Approved to EN ISO 15027-1 thermal protection
-Spacious pockets
-Designed in Sweden
-Made in Europe