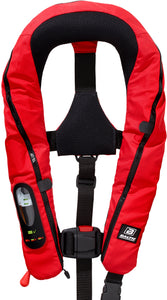 This lifejacket has twice the buoyancy as our standard inflatable lifejackets.
The Legend 305 is suitable for Ocean sailing when using heavyweight waterproofs and clothing, such as floatation suits.
The integrated safety harness has a woven attachment loop for a lifeline.
Carrying capacity 305N.
Inspection window showing that the lifejacket is ready for use.