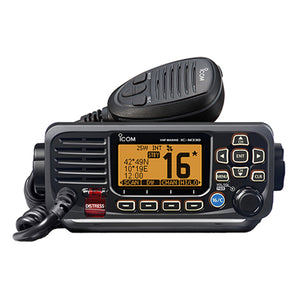 The Icom IC-M330G Fixed Mount VHF Marine Radio with GPS Receiver gives you the same performance and feature set as the M324 series, but now within a smaller package to fit in tight spaces. It still includes the exclusive AquaQuake draining feature, 25 watts of power, IPX7 Waterproof rating, scan/select scan and Icom's exclusive user interface for ease of use.
- GPS Capability
The IC-M330G includes a GPS receiver and an easy to install external GPS puck antenna for better accuracy and performance. The small compact GPS puck antenna provides your location, bearing and speed by using information from GPS, GLONASS and SBAS. This information is used for DSC (Digital Selective Calling) calls. Hook up the GPS puck antenna for the most accurate GPS and DSC functionality to work.
- Compact and Easy to Use
The M330's small size makes it easy to install into vessels with limited space. The dot-matrix display is clear and easy to read. A combination of the directional keypad and soft keys provides simple, smooth operation. Most used functions are assigned to soft keys for quick one push function access.
- Built-in Class D DSC
The radio monitors CH 70 continuously, even while you are receiving another channel. DSC functions include: distress, individual, group, all ships, urgency, safety, position request/report, polling request and DSC test calls.
- Ultra Compact Body, Flexible Installation
The IC-M330/G has a palm-sized compact body (W×H×D; 156.5 × 66.5 × 110.1 mm; 6.2 × 2.6 × 4.3 in). The radio can be installed in limited space.
- New Speaker Delivers Dynamic, Clear Audio
A new speaker design delivers dynamic and clear sound over a wide bass and treble range. The IC-M330/G provides a distortion-free clear audio even at full volume.