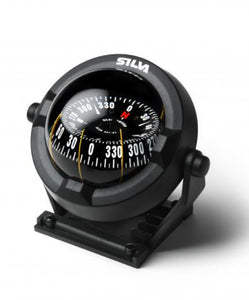 100BC is a front reading marine compass with a solid bracket that enables various mounting alternatives, including on the headlining.
It has a main steering scale on the horizontal part of the compass rose and direct reading on the vertical edge. This makes the compass ideal for boats with a sitting as well as a standing helmsman.
The integrated illumination makes night navigation easier. The built-in compensator allows you to adjust the compass if it is disturbed by a magnetic deviation.
SILVA QUALITY
The Silva quality ensures durability and excellent readability; the capsule bowl is made from clear and scratch resistant acrylic. The combination of a sapphire jewel bearing and a hardened steel pivot minimizes friction, which in turn gives rapid and accurate movements. Silva marine compasses have a no-spin compass card is designed for perfect dampening and exact reading. You can trust that even when your boat is exposed to rough seas the gimballed suspension system makes sure the functionality is never disturbed hence you will always be able to read the compass accurately.