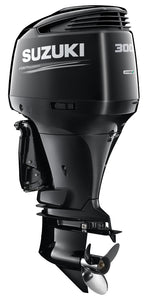 Showcasing Suzuki's advanced technologies and designs, Suzuki's flagship DF300 outboard has been recognised twice as the most innovative outboard in the industry. The original DF300 was launched as the world's first 300HP 4-stroke outboard and was acknowledged for this by the National Marine Manufacturers Association (NMMA) with its 2006 Innovation Award.
The latest generation DF300AP incorporates several new features, the most notable being Suzuki Selective Rotation. By strengthening the lower unit's forward and reverse gearing, Suzuki engineers have designed a lower unit for the DF300AP that will run in either right or left rotation. With this world's first feature, the DF300AP was recognised once again with the 2012 NMMA Innovation Award. The DF250AP is based on the DF300AP and shares the same award winning innovations and designs of Suzuki's flagship outboard. Advanced features like Suzuki Selective Rotation, Suzuki Precision Control, and Suzuki Lean Burn Control, plus big V6 power combine to provide boaters with outstanding performance and great convenience.
For current availability please contact us.