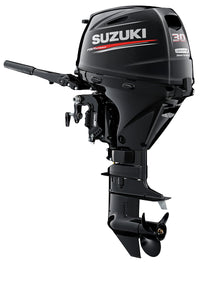 Suzuki engineers have packed the new in-line three-cylinder DF25A/30A range with some of Suzuki's finest technologies giving them class-leading advantages that put them ahead of the rest. Engineering lightweight outboards has long been a Suzuki hallmark. In keeping with that, the DF25A/30A are the lightest outboards in the 25PS / 30PS class. Both are first in class to feature friction reducing roller rocker arms and each utilises offset crankshafts resulting in smoother operation and greater mechanical efficiency.
Fuel is supplied with Suzuki's Lean Burn Control system and a Battery-Less Fuel injection system that gives these outboards remarkable improvements fuel efficiency while maintaining excellent power and performance. A convenient LED monitoring system provides engine operating status at a glance.
Tiller model available in Long (L) shaft length.
For current availability please contact us.